Emotional farewell to Verdi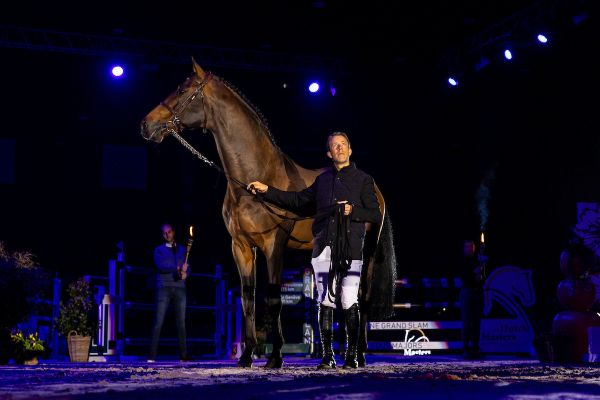 This afternoon Maikel van der Vleuten's top show jumper and breeding stallion Verdi TN was given an emotional, beautiful and well-deserved farewell. A tribute to a horse with an enormous record of service.

Verdi was born in 2002 at Dennis Musterd out of his Landgraf I mare Clarissa. Quidam de Revel signed for the paternity. At the time Henk Nijhof Sr already said that this could become 'a golden combination' and he immediately arranged the first sale on the foal.

But when Verdi was born on May 9, 2002, Kees van den Oetelaar had the same warm feeling about it as Henk, with the result that the gentlemen bought the Quidam de Revel foal together.

Verdi was approved as a three-year old and immediately got many mares to cover. Verdi's offspring did well right from the start, both in showjumping competitions for young horses and at inspections. When his oldest offspring were only ten, more than eighty of them were already jumping at 1.40m level and higher. All this earned Verdi preferent status in 2018 and the title KWPN Horse of the Year in 2019. Verdi TN is sire of more than 150 international horses, many of them now at Grand Prix level, such as Bonjovi (Emanuel Andrade), Chaplin (Martin Fuchs), Comic (Luiz Francisco de Azevedo), Cuidam (Manuel Fernandez Saro), Davinci (Luis Plascencia), Dolocia (Christian Ahlmann), Ibelle Ask (Yuri Mansur), New York (Jack Towell),

But Verdi was not only interesting as a sire, also as a sport horse there were high expectations. Without any idea of potential danger, Kees van den Oetelaar thought it would be nice if his sturdy and playful four-year-old stallion would come under the saddle of the very young Maikel van der Vleuten. So he phoned Eric van der Vleuten to say that he had a good horse for his son to ride. Later Kees admitted that he only realised afterwards that it was actually quite a risk; 'that little 17 year old boy on such a sturdy four year old stallion'. But that also turned out to be a golden combination. Until today Verdi is king of the stable at Van der Vleuten.

From the moment Verdi entered the competition as a young horse he performed remarkably. As a four year old he won the stallion competition, a year later he finished in the top-ten at the World Championships for young show jumpers in Lanaken and again a year later he won the Dutch Championship for seven year olds and finished seventh at the World Championships in Lanaken. As a seven-year-old he already jumped his first 1.55m class in Olympia-London in which he stayed double clear. In January 2010, as an eight-year-old, he jumped his first Grand Prix in Amsterdam.

Verdi is the dream example of a stallion who combines sport and breeding, because whether it is sport or breeding; what Verdi touches, seems to turn into gold.

With Maikel, Verdi was for many years a mainstay of the Dutch show jumping team. In 2011 a nine-year-old Verdi made his debut at the European Championships in Madrid. This was followed by participation in two Olympic Games, a World Championship and another two European Championships. So far no horse in the world - stallion, mare or gelding - has copied him, not to mention his achievements. Olympic team silver in London in 2012 was followed by World Cup and European Championship team gold in 2014 and 2015. As a bonus, there was the win in the final of the FEI Nations Cup in 2014.

In between, Verdi qualified five times for the World Cup finals in which he finished in the top ten four times and eleventh once. As if that was not enough, Verdi also took top prizes in several five-star Grand Prix and World Cup competitions. For example, with Maikel he won the Grand Prix of Salzburg, Lyon, Lummen, Madrid, Doha and Verona, among others.

In 2018, with over 1.4 million euros, he was even the most earning horse in the world. The team win in the first Global Champions League Final in Prague and his second place at the Spruce Meadows Masters in Calgary made a significant contribution to this.

Verdi's list of honours is gigantic, but even more impressive is the constant high level at which he has continued to perform. For Team Nijhof Verdi was in 2010 the youngest stallion performing at the highest level and in 2020 he was their oldest stallion at that level. A golden stallion.

And now this farewell. A farewell to a very great one who did everything in his own, unique way. "Verdi always had to prove himself", Maikel said. "First at the stallion approvals, then in the stallion competitions, then in the big sport. But he did it. Every time again. He did it his way."